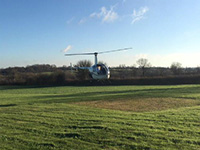 Many of our customers buy trial flying lessons - either as a gift for a loved one or for themselves - as a massive treat and a one-off thrill. Quite a few of them are also thinking of taking their flying further, as a brilliant hobby or a rewarding and varied career. This experience is ideal for what we call a 'total aviation person'.
When you call the operator to arrange the date of your experience you'll be sent confirmation and a really informative book which gives all sorts of information about what happens on a trial flying lesson and the basics of aerodynamics and how the controls work
On the day itself you'll call to make sure that the weather is OK, if it is not you'll simply be postponed
When you get to the flying school you'll be given refreshments and meet your intructors for the day - and any other course members.
Then there's a safety briefing and proper introduction to the controls and instruments.
...and now it's off to the helicopter and YOUR chance to do some flying!!
After the landing, it's back for a de-brief and 'tea and medals' and LUNCH.
Aviators love talking to fellow aviators about helicopters and you'll now have a guided tour of the hangar/s at the airfield - chance to ask all sorts of questions about the various types and performance and engineering and...(so it goes, and so it goes).
Back to the classroom/club house and a presentation all about the career options and pathways for those people who are lucky and skilfull enough to go on and make a living out of flying helicopters.
Most locations will also supply you with a certificate, and the time spent flying definitely counts towards your total so you should get yourself a logbook so your instructor can make the first entry. A document which you will treasure for life.

Can be used at:

* Wycombe
* Gloucester
* Barton
* Thruxton
* Cumbernauld
* Welshpool
* Newcastle
* Wellesbourne Mountford
* Wolverhampton


(One of these locations
will be printed on your
voucher, but you can
choose to use it from any.)