£49.00
Why choose Flights4all?
- You won't find a wider choice of flying experiences, anywhere.
- We don't compromise on your time in the air. When comparing us with others, check the small print and the time actually spent in the air.
- You get the best possible price and an instant voucher by choosing the email delivery option
- Friendly pilots on hand to answer your aviation queries
- All our products are regularly reviewed to ensure that they meet our quality standards for a truly unforgettable experience
- We use bulk purchasing to offer you great value for money on all our products
£49.00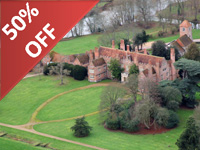 Helicopter pleasure flight, product code 32924

Take a VIP helicopter tour up the Thames, meander around the Manor house,visit St Mary's Church and learn about the spectacular turbine and mill, once landed you will enjoy a traditional cream tea.


Pleasure flights allow the recipient to sit back and enjoy the views.

Stock ref: 647086d


Location
Event takes place at Mapledurham Estate in Berkshire. View a map or get directions.


What's included

**** WAS £99.00 NOW £49.00****

There's never been a better time to experience and capture forever your own tiny piece of British history. Away from the distractions of town, business or busy hotels, Mapledurham Estate is an oasis of peace, natural beauty and history. A scrumptious cream tea made from the flour freshly ground at the mill perfectly completes a once-in-a-lifetime family day out!

8 mile Flight
* Briefings
* Public Liability Insurance
* Entrance to Mapledurham Estate and grounds
* Cream Tea
* Valid at Mapledurham Estate, Berkshire


Duration
This experience will last a total of approximately 1 day, with ca. 6 minutes spent in the air.


Voucher
Each voucher entitles one person to participate in this experience. The voucher is transferable, which means that anyone can use it. The voucher remains valid for bookings for 9 months from the date of purchase. Please contact the operator using the details printed on your voucher to arrange a date for your event.


Special Conditions
Maximum passenger weight 18st(please contact us if over)

Minimum age 6 (children under 12 must be accompanied by an adult

Minimum age for front seat passenger is 12, maximum weight is 15st.


Booking your event
We recommend that you purchase your voucher and make a booking for your event at least one month prior to your chosen date. This is particularly important for weekend events.


If you are hoping to use your voucher on a specific date in the next 2 months or on a bank holiday, feel free to check availability.