£129.00
Why choose Flights4all?
- You won't find a wider choice of flying experiences, anywhere.
- We don't compromise on your time in the air. When comparing us with others, check the small print and the time actually spent in the air.
- You get the best possible price and an instant voucher by choosing the email delivery option
- Friendly pilots on hand to answer your aviation queries
- All our products are regularly reviewed to ensure that they meet our quality standards for a truly unforgettable experience
- We use bulk purchasing to offer you great value for money on all our products
£129.00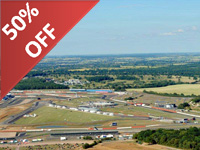 Helicopter trial lesson, product code 32928

It used to be purely reserved for the rich and famous ... now you too can enjoy Silverstone from the air, home of the British Grand Prix, under the careful guidance of a highly qualified helicopter instructor.


Flying lessons include the opportunity for hands on flying by the lucky recipient.

Stock ref: 647168d


Location
Event takes place at Silverstone A in Northamptonshire. View a map or get directions.


What's included
Your Helicopter Trial Lesson will allow you to experience the thrill of flying and will even count as the first step towards your Private Pilot's Licence!

Your lesson is preceded by a short flight briefing with our instructor who will explain all aspects of the flight including the effects of controls and how a helicopter flies. You will then be allowed to take the controls and actually fly the aircraft! Spend up to 20 minutes in the air, both as a pilot and a passenger, split between three separate flights.

The Package:
* 45 minute experience with a 20 minute flight duration
* Total of 3 x 6/7 minute flights around the British Grand Prix Motor Racing Circuit
* Split between 2 x Observation and 1 x Hands-on flight with Hover Challenge
* Flight Briefings



Duration
This experience will last a total of approximately 45 minutes, with ca. 20 minutes spent in the air.


Voucher
Each voucher entitles one person to participate in this experience. The voucher is transferable, which means that anyone can use it. The voucher remains valid for bookings for 9 months from the date of purchase. Please contact the operator using the details printed on your voucher to arrange a date for your event.


Special Conditions
Voucher valid for 1 person Flight taken as part of a 3-person group Maximum Weight 17 Stone Minimum Age 12
Booking your event
We recommend that you purchase your voucher and make a booking for your event at least one month prior to your chosen date. This is particularly important for weekend events.


If you are hoping to use your voucher on a specific date in the next 2 months or on a bank holiday, feel free to check availability.