Day Gliding course
Fordham Road, Wormingford, Colchester, Essex, CO6 3AQ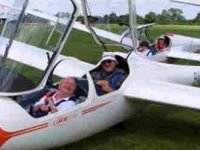 Gliding experience
Your flying tuition will be in one of the club's two-seater gliders with a British Gliding Association qualified instructor, who will give you a full briefing before take off. Includes up to 6 launches.
What's included
If you are seriously thinking about taking up gliding or want more than a brief "taster", then a Day Course is recommended.
The Day Course consists of 6 winch launches, or 3 winch launches with extended soaring flights, or a combination of both.
The instruction will be more intensive than a trial lesson and a full briefing with a British Gliding Association qualified instructor on gliding and the theory of flight will take place before you take to the air.
Gliding is very much a co-operative sport where everyone helps each other. If you want to participate in these general activities during your Day Course, please speak to your instructor who will brief you.
The instructor will endeavour to give you sufficient time in the air to become acquainted with the thrill of flight and to enjoy the panorama below you. During the flight you will be instructed on the effects of the controls, and should you wish, you can take the controls and fly the glider yourself.
The launch will be by our modern powerful winch, and as the glider levels out at the top of the climb you will hear and feel the instructor releasing the cable, as your flight over the beautiful Essex/Suffolk countryside begins. It may be permissible to use a camera, but if you do take a camera you may not be able to fly the glider during the same flight.
Upon your return to the airfield, your instructor will fly a circuit around the landing area and increase the airspeed for landing. You will see the landing area approaching ahead and feel a gentle bump as the glider touches down.


Voucher
Each voucher entitles one person to participate in this experience. The voucher is non-transferable, which means that only the person named on the voucher can use it. The voucher remains valid for bookings for 12 months from the date of purchase. Please contact the operator using the details printed on your voucher to arrange a date for your event.


Special Conditions
A full three calendar months' temporary club membership is included in the price of the Day Course, so you may return again within that time and fly at club rates.
Although the weather may appear to be good, airfields can be surprisingly cold at times, even in the summer, and especially when a strong wind whistles across the runway. Ladies will feel more comfortable in trousers, especially when getting in and out of the glider.
Training available Saturdays, Sundays, most Wednesdays and Fridays, and on Bank Holidays.
Booking your event
We recommend that you purchase your voucher and make a booking for your event at least one month prior to your chosen date. This is particularly important for weekend events.