60 minute flying lesson
Peterborough Conington Airport, Holme, Peterborough, Cambridgeshire, PE7 3PX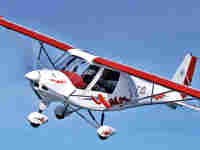 Microlight trial lesson
A trial flying lesson for a full hour over the rolling hills of Northamptonshire or via the Lincolnshire Fenlands to the North Sea Coast. Admire the view from half a mile high then you will be given control to fly the aircraft.
What's included
You will be welcomed on arrival where you will meet your Captain, an experienced instructor who will take you for your flight.
You will be made a member of the club for the day. This means that you will be covered by the club's insurance and, more importantly, that the time flown can be credited towards a pilot's licence!
You will be taken to the aircraft, the latest model C42B Ikarus microlight and be given a safety brief. That's how to get in and out, close, lock and open the door, fasten and undo the seatbelt, and we ask you not to touch the controls unless told to!
The pre-flight brief at the aircraft will show you how to control it by use of the elevator and ailerons and how to use the hand throttle, too.
In flight and up to 30 miles away from our home airfield you can experience the pleasures of flight, admire the view from half a mile high, then take photographs. Your instructor will show you the effects of controls and hand over to you to have a go at controlling the aircraft, flying straight, then level, then both straight and level together.
For most of the flight control of the aircraft can be yours. Try your hand at following line features like a motorway or the great drainage dykes of the area. Try flying gentle turns around a town or a cloud! See if you can navigate back to our home airfield.
When eventually back at base you can have your picture taken beside the aircraft (bring a camera) and you'll be presented with a certificate to mark the occasion.



Voucher
Each voucher entitles one person to participate in this experience. The voucher is transferable, which means that anyone can use it. The voucher remains valid for bookings for 9 months from the date of purchase. Please contact the operator using the details printed on your voucher to arrange a date for your event.


Special Conditions
Minimum age 14 years Maximum weight 100kg/220lbs/16stone Maximum height 6'4"
Booking your event
We recommend that you purchase your voucher and make a booking for your event at least one month prior to your chosen date. This is particularly important for weekend events.